The FN 510 TACTICAL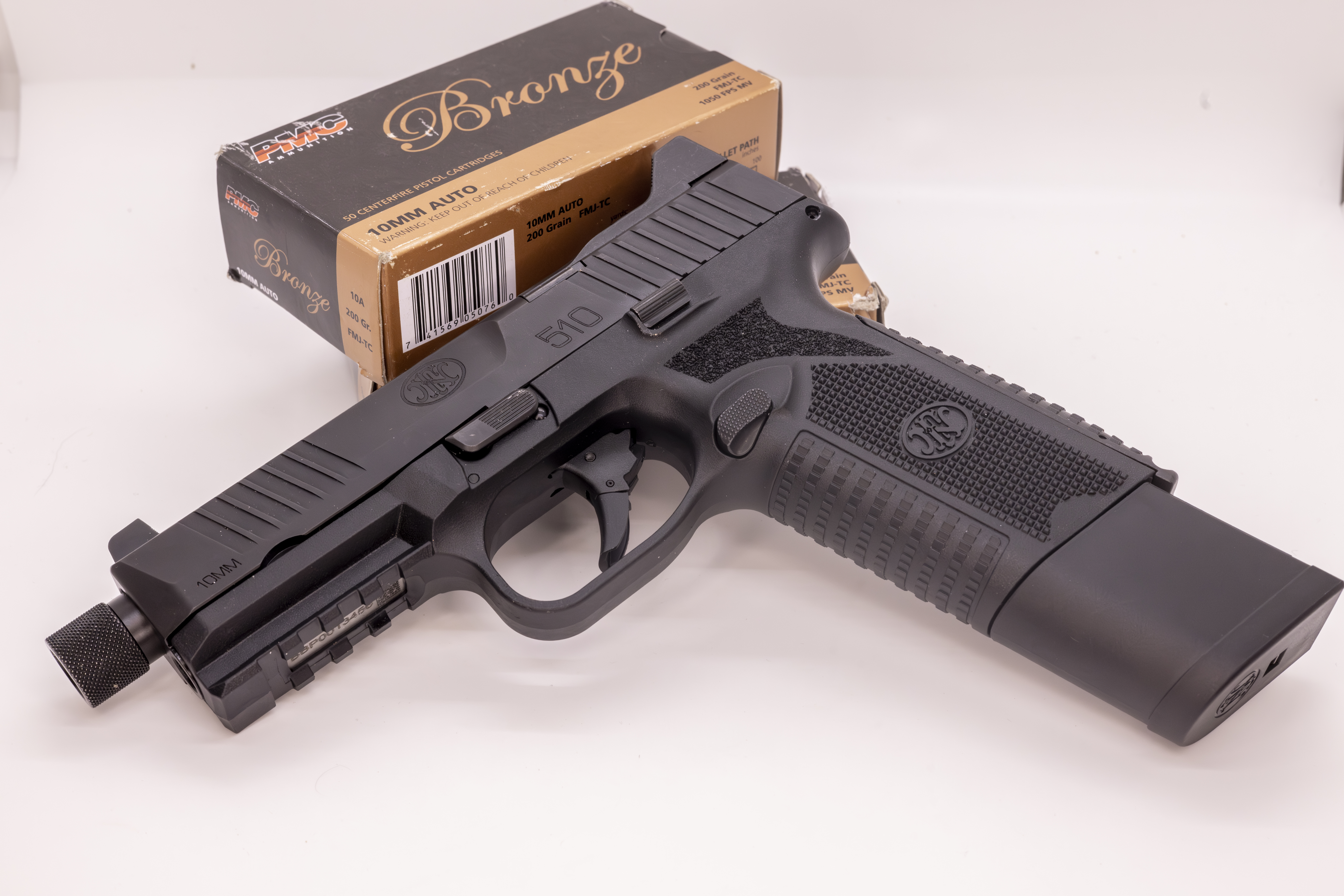 Lets talk about the FN 510 Tactical, 10mm handgun (but first a little history)
Known simply as FN (French for Fabrique Nationale or National Factory), FN has been based in Herstal, Belgium, since 1889. It is currently the largest exporter of military arms in Europe and, worldwide, over 100 countries use FN firearms for their military forces. In 1897, they entered into a relationship with John Browning. FN currently owns Browning Arms Company and the U.S. Repeating Arms Company (Winchester).
FN opened its subsidiary, FN America in 1981, in Colombia, South Carolina and are expanding facilities to this date. They market to Military, Law Enforcement and to Civilians. FN is known for designing, developing, and manufacturing many of today's well-known firearms. While their inventory is too large to list here; the short list includes the M249 SAW, Browning Hi-Power 9mm, FAL, P90, M2 Browning .50 Cal Machine Gun, and more recently, the SCAR (SpecialOps Combat Assault Rifle) line of rifles. As if this were not enough, they also have a long list of handguns in production. Needless to say, the FN name and reputation precedes itself, in a great way of course !
10mm
Why 10mm you say? Well, first a little more history. The 10mm auto cartridge was created in 1983 and gained some traction in 1989 after it was chosen as the official handgun cartridge by the F.B.I., for its ballistic performance. This was after the now infamous and tragic 1986 FBI Miami Shootout where the FBI carrying mostly revolvers, shotguns and only three 9mm handguns, were seriously outgunned which resulted in 2 agents being killed and 5 more agents wounded.
The move to the 10mm Auto was short lived though for the FBI. While the stopping power of the cartridge was far superior to most other calibers at that time, the sharp recoil of the powerful round proved to be a bit too much for most agents to control the firearm. Soon after, Smith & Wesson developed the 10mm short or as it is now known; the .40 S&W and was soon adopted by the FBI. 10mm then faded from the public eye. While the 10mm Auto has stayed around since then, and was popular with some outdoorsmen, it has recently been making more of a comeback. Many companies have been producing newer 10mm handguns.
So now, let's talk about the FN 510 Tactical. FN has finally thrown their horse into the race with their take on the 10mm. It is largely based on their extremely successful 509 line of 9mm handguns except in a larger format, which is required to handle the extreme pressures of the 10mm Auto cartridge. Made to today's standards of larger magazine capacity and ready for optics and suppressors, the 510 Tactical surely comes up as a winner.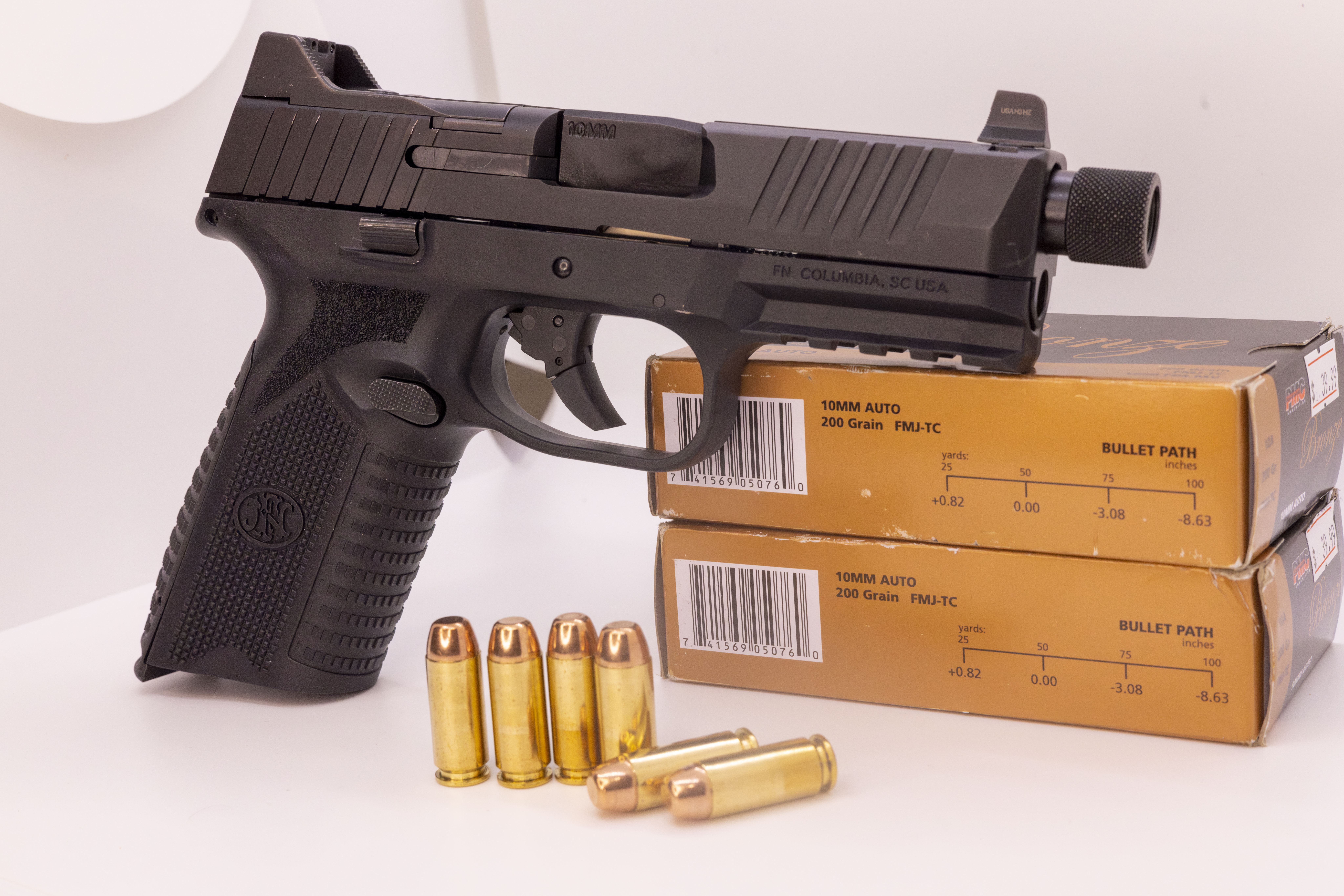 Lets start at the top…(The Slide)
The slide is made from a steel alloy, and it's finished with a special PVD (Physical Vapor Deposition) coating. This finish is not only pleasing to the eye, but it is also extremely durable, corrosion resistant and very long lasting. This also gives it its matte-like appearance, important in a tactical firearm.
The slide has ample front and rear angled serrations which allow manipulation of the slide from many different positions. The serrations are deep enough for a good grip yet not sharp edged, so they don't catch on clothing etc. The slide has a nice large ejection port and an extractor which does double duty as a loaded chamber indicator. The extractor protrudes out slightly when there is a round in the chamber, giving you visual and physical confirmation when loaded.
No fiber optic sights here. This firearm is made to be durable and to take abuse. Fiber optics would be too fragile for this application. Tritium lamp steel dovetail sights can co-witness with most MRDs (Mini Red-Dots). The front sight features a tritium dot surrounded by a white circle which makes it easy to acquire. The rear sight consists of 2 tritium dots on a generous U-shaped sight. (Side note: Tritium is used for sights because they emit a glow, making it excellent for use in night-time.) The rear sight is also surrounded on both sides by metal wings to protect it from any intended or unintended abuse it may encounter.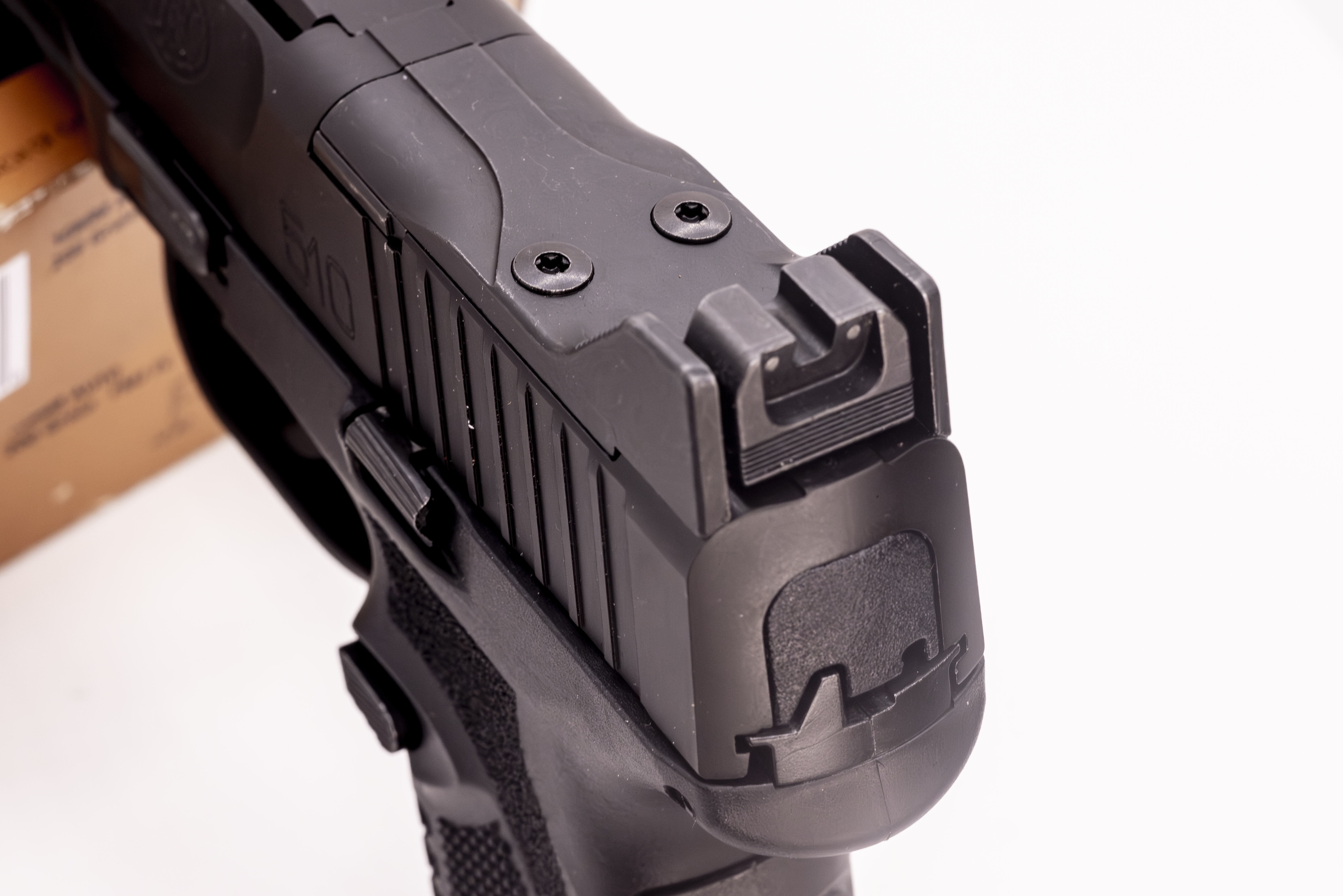 The slide has also been machined with a removeable optics plate cover and it also comes with various optics plates which can accommodate the most popular of the red-dot optics on today's market. It uses a proprietary system called the Low Profile Optics Mounting System (Sorry no acronym here). The rear sight does not need to be removed to allow installation of an optic. As mentioned before, the fixed sights will co-witness through an MRD, without the need to purchase any aftermarket sights.
The cold hammer-forged barrel comes in at 4.7 inches in length with a 1:16 RH twist rate. The barrel is target crowned which, simply put, means that the muzzle end of the barrel is slightly indented. This indentation protects the business end of the barrel from bumping, which can mar the rifling of the barrel and lessen accuracy over time. The fact that FN included this, even though the barrel is threaded and will more than likely have the thread protector on it, is a testament to the fine attention to detail that FN has been known for.
Speaking of a threaded barrel; YES, the 510 Tactical is suppressor ready; after the RMGWTATS (Required Minimum Government Wait Time and Tax Stamp), of course. Sorry I couldn't help that one. A compensator can also be used, using a thread of .578"x28. Once again, the sights are high enough that you can use with a suppressor and an MRD. All the systems are made to work well together.
The Frame
Moving on down to the polymer frame of the 510, we have a slide stop and the magazine release button, which are both ambidextrous out of the box. Both are positioned very well with little need to reposition your hand to activate either. The take-down lever is on the left side of the frame, and it makes it very easy to disassemble the firearm (Don't forget to remove the thread protector first !) Also, there is no manual safety on the frame.
The frame is designed for a high grip on the frame which helps to mitigate recoil. The higher your hand is to the barrel, the less recoil there is. Think of it as a pivot point. If you hold the grip down low, recoil will tilt the firearm up with every shot. If your grip is higher, then the recoil is directed back in a straight line, which reduces muzzle rise, and makes follow up shots faster and more accurate.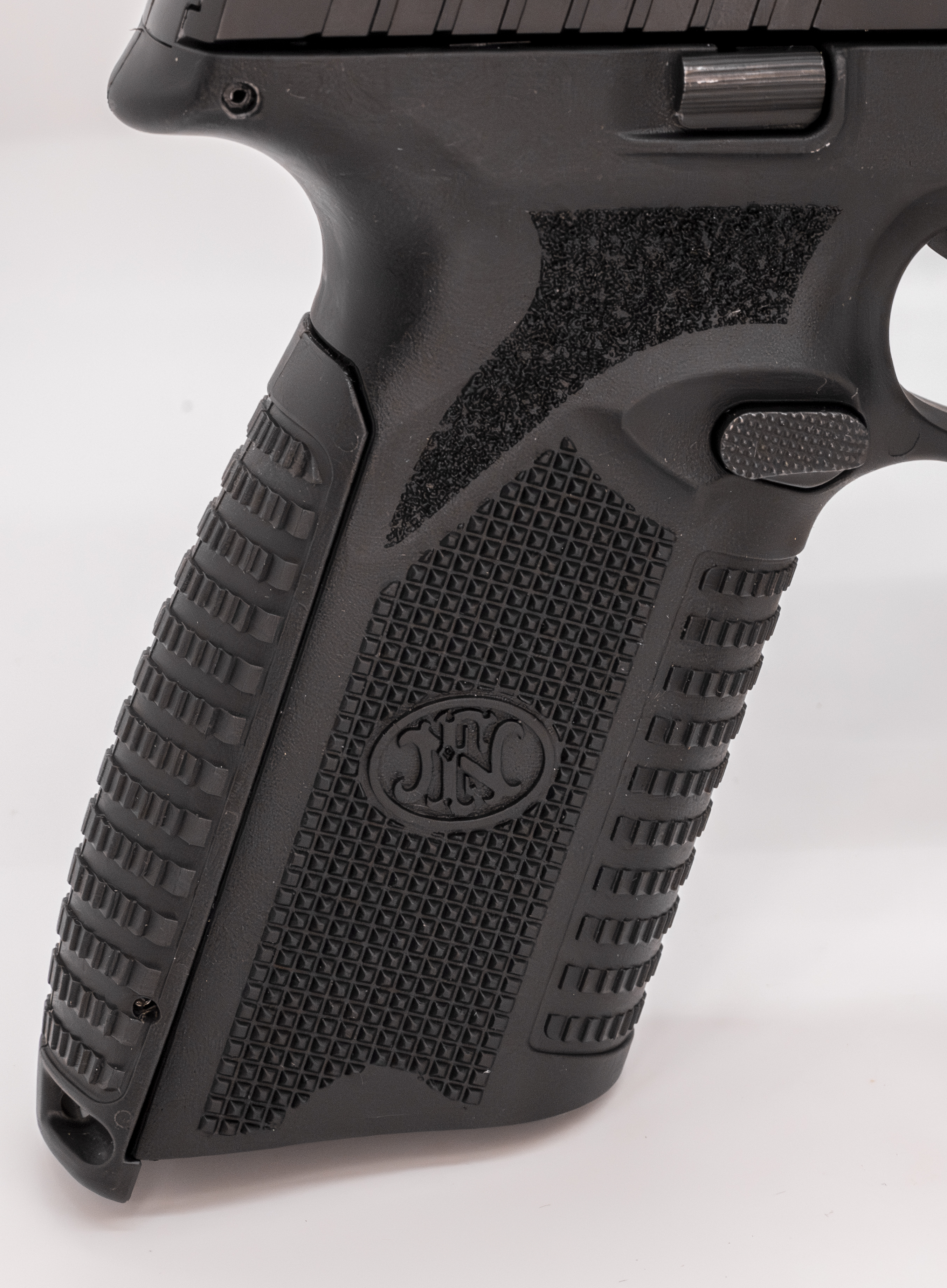 Speaking of grips; the FN 510 has 3 different types of texturing on the grip, in order to help with control, comfort and recoil. The front and rear straps (of the grip) have larger wedge-like squares that are comfortable and won't cause discomfort when firing it. The sides have smaller pyramid-ish raised squares which are more aggressive and help to keep your grip without slippages. Along the path of your thumb grip, is a smoother random pattern of stippling, which will also keep your fingers in place. The FN 510 Tactical comes with 2 backstraps (flat and arched) to fit most hands and comfort levels.
The trigger guard is very large which can accommodate a gloved hand or larger fingers. The 'Precision Tuned' trigger is smooth with a clean trigger break and noticeable reset. The trigger pull is about 5-6 pounds on average. The trigger itself is articulated which is a safety feature. Right in front of the trigger guard and below the slide, is an MIL-STD-1913 (or Picatinny) rail to accommodate most any light or laser that you may wish to install. It has 4 notches to properly fit and align most products.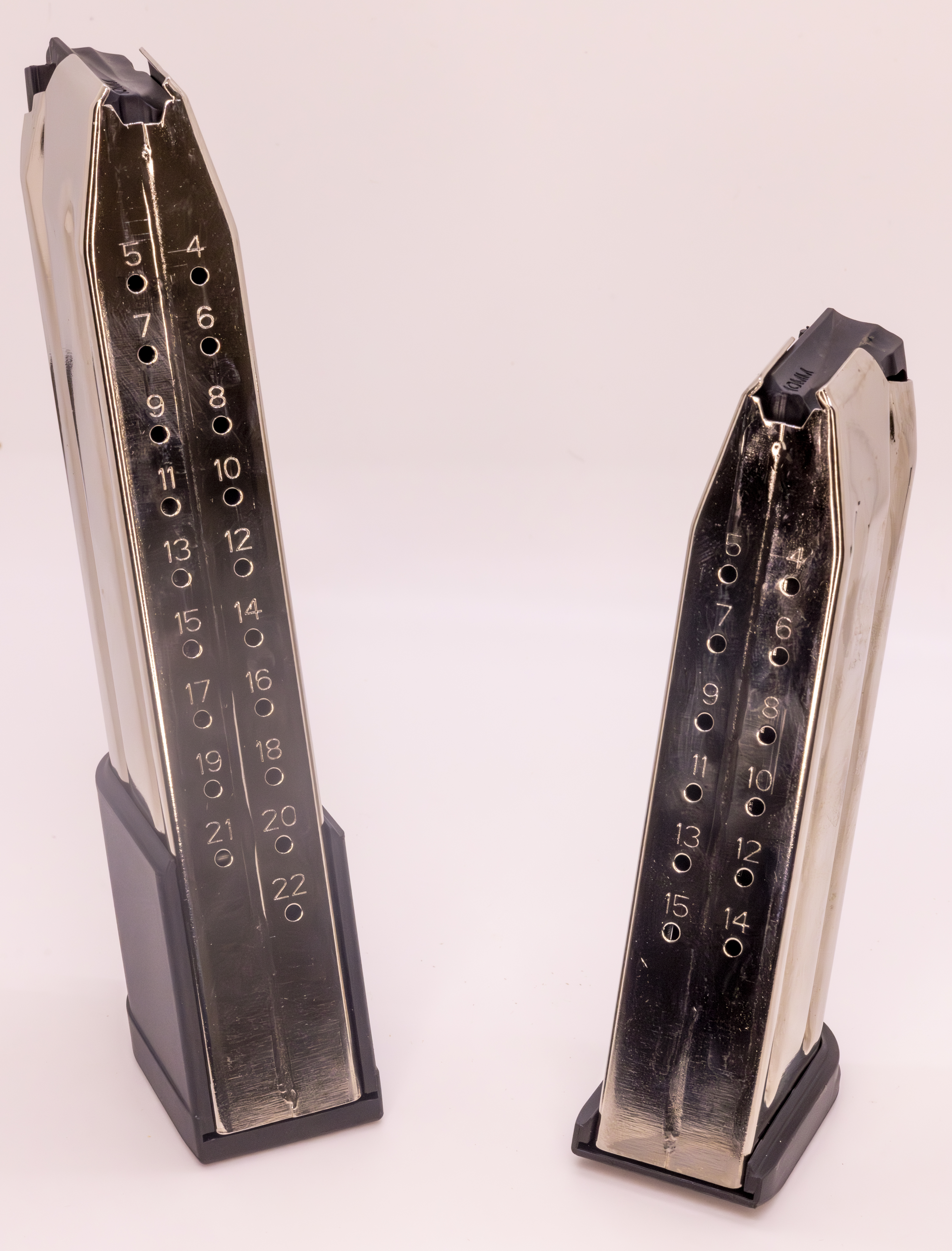 Last but not least, is the magazine capacity. The FN 510 Tactical comes with 2 magazines, a 15 round flush fit magazine and a whopping 22 round extended magazine. The extended magazine extends about one and a half inches below the grip. The magazines are made of steel with a polished chrome finish. They are also tapered a bit at the top, making for quick and efficient magazine changes. There are 10 round versions of the magazines for those living in states that limit your magazine capacity. It also comes with a black zippered pouch to transport it plus accessories.
Final Thoughts
The 10mm Auto of the 80's and the F.B.I days is not the same as the modern day 10mm Auto. It is still a very powerful cartridge, with the approximate weight of a .45 caliber bullet combined with the high speed of 9mm. The FN 510 Tactical tames the once wild cartridge into a manageable and dare I say, pleasurable experience.
The FN 510 Tactical is a well thought out, well-conceived and finely manufactured modern firearm. Its various systems work very well together to make one complete firearm that would find it's home with you in the wilderness, with everyday hikers, in a home defense role, or just everyday shooting at the range. It's very rugged and made to withstand much abuse that the outside world can throw at it. With the history of FN, it's no wonder that so much thought and work was put into the FN 510 Tactical and combined with FN's years of knowledge & experience; it has surely paid off.
Find the FN 510 Tactical & other related gear at Mad Partners Inc
https://www.madpartnersinc.com/product/fn-510-t-10mm-blk-4.7-221#product_detail
https://www.madpartnersinc.com/product/rugged-obsidian-45-suppressor#product_detail
https://www.madpartnersinc.com/product-search-results?search_text=fn+510+magazine&from_form=true
As always, don't forget the firearms rules of safety at all times. Keep the firearm pointed in a safe direction, never place your finger on the trigger until you are ready to use it and keep it unloaded when handling or cleaning it. Also, make sure that you follow the manufacturer's instruction manual and become familiar with all aspects of the firearm.