Purchasing a Firearm online
Buying a firearm can be a daunting task for many people. Choosing whether to buy a rifle, shotgun or handgun is the first of many choices. You should also have a purpose in mind for the firearm (range plinking, competition, carry, home defense, collection etc.), as this will help you choose many of the options that follow, such as caliber, size and magazine capacity. Price is also something that most everyone looks at when purchasing a firearm. Then, of course, the aesthetic side; color, design, grips etc.
Some experienced shoppers already know exactly what firearm they want to purchase. They want the latest and the greatest one, of course ! They read magazines, blogs, or watch YouTube videos from their favorite online personalities & influencers. Others still get recommendations from gun clubs, family or friends. (Or of course, your friendly local gun store !)
Benefits of purchasing a firearm online
Many firearms are made right here in the USA. Many firearms are also imported from other countries and made readily available to the public. While gun stores can carry many different makes & models of firearms, it would be impossible to carry them all. Even the largest store cannot do this. Add to this, the fact that each manufacturer of firearms makes more than one model. Usually, each model can be available in many different calibers, colors, and configurations.
Take for instance, one of my favorites, the Springfield Armory Hellcat. The Hellcat is a micro compact 9mm handgun. The base model comes in Black and FDE (desert tan color). Then they released the OSP version (Optical Sight Pistol), which lets you add on a Red-Dot Optic. Shortly after that, came the RDP version, the Pro version and each in a myriad of different colors. As of this date, our website (www.MADPartnersInc.com) has 47 different variations of the Hellcat in stock on the website. (and that's only one model … Phew !)
Enter the online store. Using our website (www.MADPartnersInc.com) as an example, we have access to thousands of firearms through our various distributors. You can make comparisons, view prices and actually see what is in stock and currently available. Shipping to our location or your nearest FFL (Federal Firearms Licensee) is fast and easy, even if you are in another state. Most transactions arrive within 7-10 days (but its usually much quicker because handguns must ship via 2-day air).
Cons of purchasing a firearm online
So how can there be any cons to buying a firearm online? Well, while there may be some cons to this process, there are ways to make them better. One of the biggest cons happens if you don't know exactly what firearm you are looking for. You can't get a feel for a firearm in your hand, or even feel the weight of it. Enter the LGS (Local Gun Store). At Mad Partners Inc, we try to maintain an inventory of various types and sizes of firearms in the store at any given time. We suggest coming in to look, touch and feel what we have in stock. In addition, as experienced gun guys, we can try to guide you to something that will fit your hands and your wallet at the same time.
Another con would be if a firearm is 'not in stock". This happens usually with newly released firearms, or firearms that are no longer made. With new releases, its just a matter of time before the firearms make it from Manufacturer to Distributor then to our website and into your hands.
Procedures for purchasing a firearm online
So, you cannot have a firearm shipped directly to your doorstep. The process is like a purchase at a gun store and does require a visit to one. Once you have placed an order, and if you chose delivery, then you would come in to our shop and the process would be the same, as if you were purchasing a firearm in-store. If you chose delivery to another FFL (gun store), then the process would follow whatever the current law is in that state/city/community. (Background check, permit regulations etc.)
We recommend using our website (www.MADPartnersInc.com) when buying a firearm online because you wont be charged a transfer fee. That being said, here is the way to go about it.
1. Do a search for the firearm you are looking for.
2. Choose the correct model and double check that it is indeed the correct one, including magazine capacity (as our website also includes models with magazine limits for out of state shipping).
3. Add to cart and select checkout.
4. Log in to your Account or create a new account by adding your information
5. - IF you are picking up in our store (either Buckeye, AZ or Mt Juliet, TN) choose "Store Pickup" and NOT delivery. (or you will be charged a delivery fee)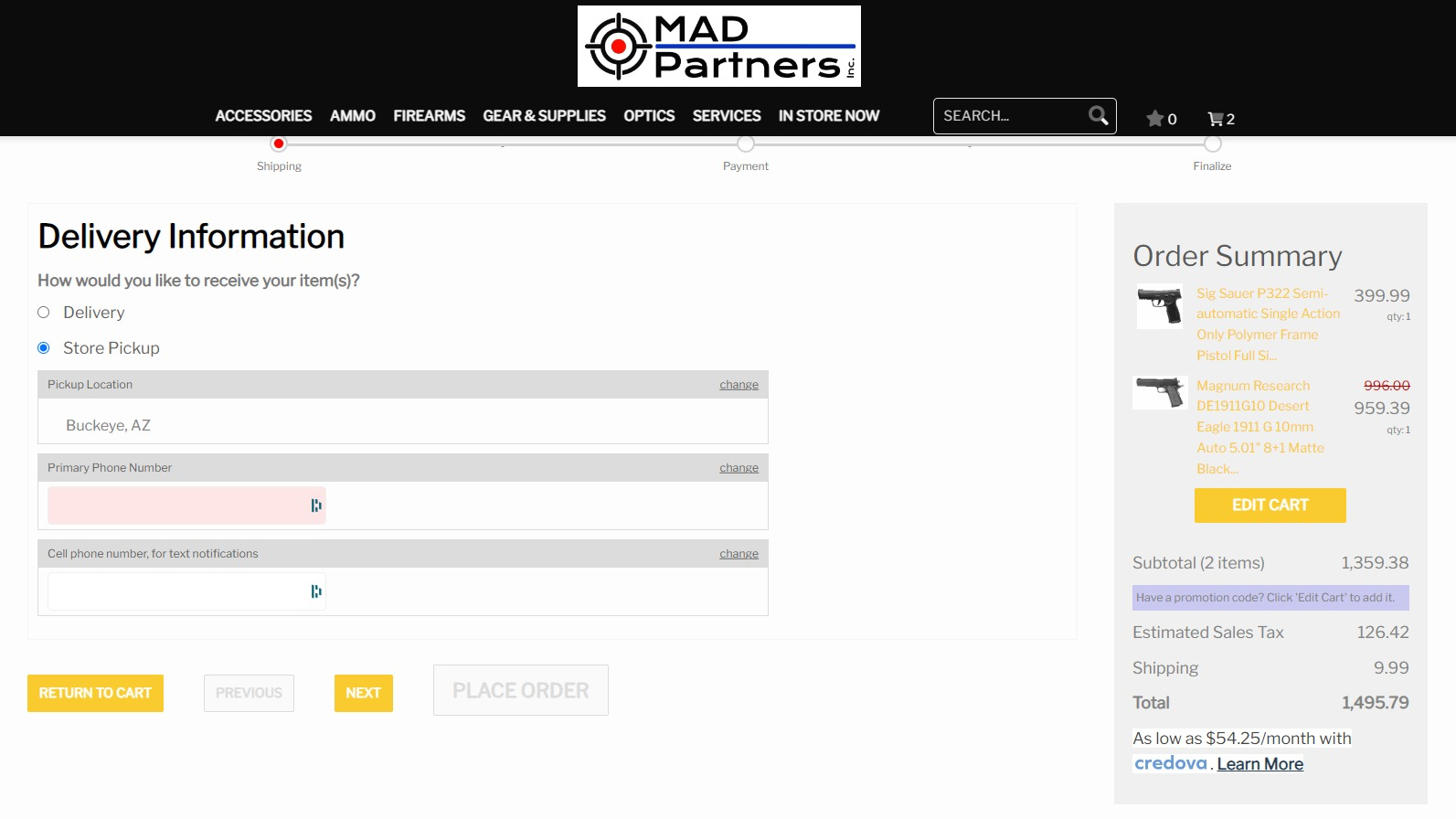 - IF you are having it delivered to your local FFL (gun store) then make sure you select "Delivery", then at the bottom, you can select a local FFL. (Firearms cannot be shipped to your home)
6. Next, choose your payment method. We accept most major credit cards, MAD Partners Gift Cards and eChecks on our Website. You can also choose Credova, which lets you pay the amount over a short period of time (Same as Cash if paid within 3 months).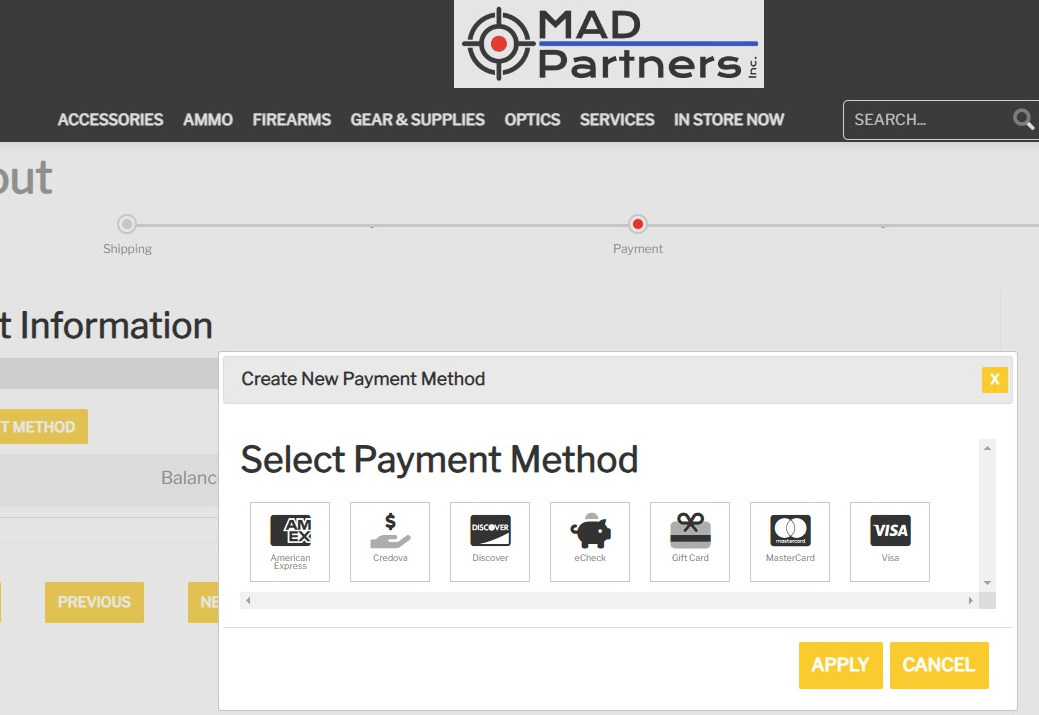 7. Once you have completed the transaction, you should receive email confirmation.
8. Wait until we call you to come pick up your new firearm. As per government regulations all firearms need to be checked in to our system. We ask that you be patient as this process takes some time.
9. If at any point in the process you have any questions, please feel free to call us or contact us via phone, email or from the Website, Facebook or Instagram pages. We will get back to you as soon as we can.
While in the store, let us know if you need anything else, such as ammunition, holsters, accessories etc. Enjoy your online shopping experience !